StoryTrails - The People's Metaverse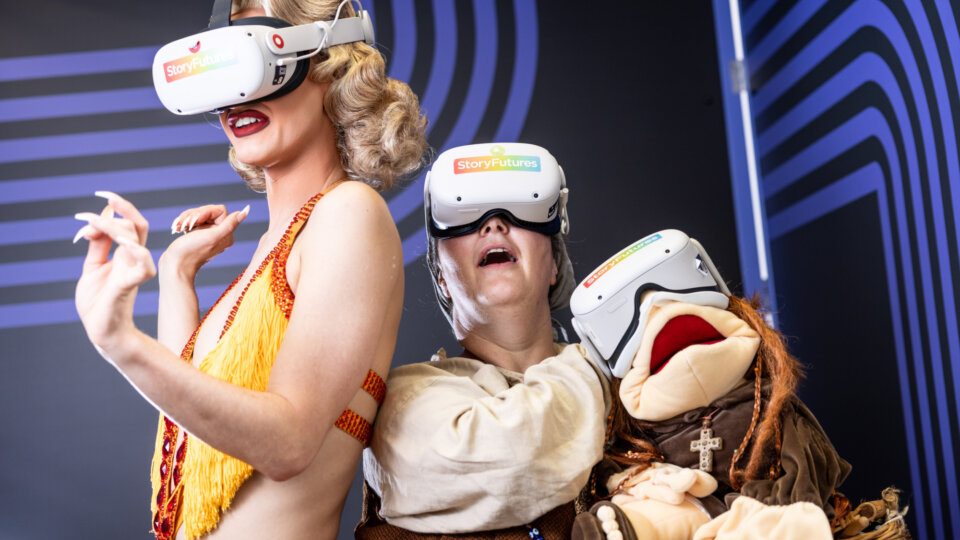 Director:

James Bennett

Producer(s):

Will Saunders, Amanda Murphy, Madeline Bates, Sarah Smyth, Kylie Bryant, Claire Cook

Archive Producer/ Researchers:

Rebecca Thompson, Nessa Dundon, Holly Elson, Vici Evans, Madeline Bates

Archival Sources:

BBC, BFI, National Library of Scotland (NLS), National Library of Wales (NLW), Media Archive Central England, North West Film Archive, Wessex Archive, Film London - London Screen Archives, Yorkshire Film Archive/North East Film Archive (YFA/NEFA)

Production Company:

StoryFutures, Nexus Studios, ISO Design, Produce UK, The Reading Agency, BFI, BBC, Uplands

Country of Production:

United Kingdom
Synopsis
StoryTrails was the UK's largest immersive storytelling project to date. A unique touring experience of VR/AR and mixed reality experiences in 15 different towns and cities across the UK. National and hyper-local in equal measure from Swansea to Slough and from Bradford to Bristol, StoryTrails invited audiences to see their hometown differently.
Hidden histories were explored in augmented reality walking trails, immersive films about each town were experienced on giant cylcoramic screens installed into public libraries, and pop up VR hubs appeared that re-imagined film and tv archive to share new stories about Britain's relationship with itself and its past.
StoryTrails brought together some of the UK's most established media names alongside companies at the cutting edge of spatial storytelling. The lead partner was StoryFutures, the UK's National Centre for Immersive Storytelling, working with the BBC, the British Film Institute, Niantic, Nexus Studios, Uplands Television, ISODesign, Produce UK and The Reading Agency. StoryTrails was funded by the UK government as part of a nationwide festival of creativity and innovation, Unboxed 2022.
The following is a case study that reflects how one of the project's technical partners designed the augmented reality walking trails and activated archive in innovative ways:
https://nexusstudios.com/work/...
Archival highlights
StoryTrails uniquely unlocked our shared screen heritage by opening up access to over 50 archive sources from across all UK regions and nations as well as BFI and BBC national collections.

By re-situating 2D collections within 3D spatial storytelling, StoryTrails made archive available to creatives and communities to reinterpret, reanimate and reconnect with the heritage these collections represent.

StoryTrails made archive resonate with communities by blending archive with cutting-edge immersive technology and brilliant storytelling:

"I liked how it the virtual reality stuff made it feel like a game but then the archival footage made it feel like real life. It made it feel like this was for adults and children. Without the footage it would have felt more like a game and less like reality." – (25 year old male, survey respondent, Blackpool)

89% of people rated the VR experiences 4* or higher (out of 5*).

The stories shared in StoryTrails surfaced lesser-known histories brought to life in 3D interactive dioramas, virtual reality experiences and augmented reality walking trails. In Blackpool you could explore the LGBT+ history of the town and its legendary club scene, whilst in Lambeth you could strut Winifred Attwell's honky tonk walk and celebrate the first Black British artist to have a number 1 hit single.