BBC Motion Graphics Archive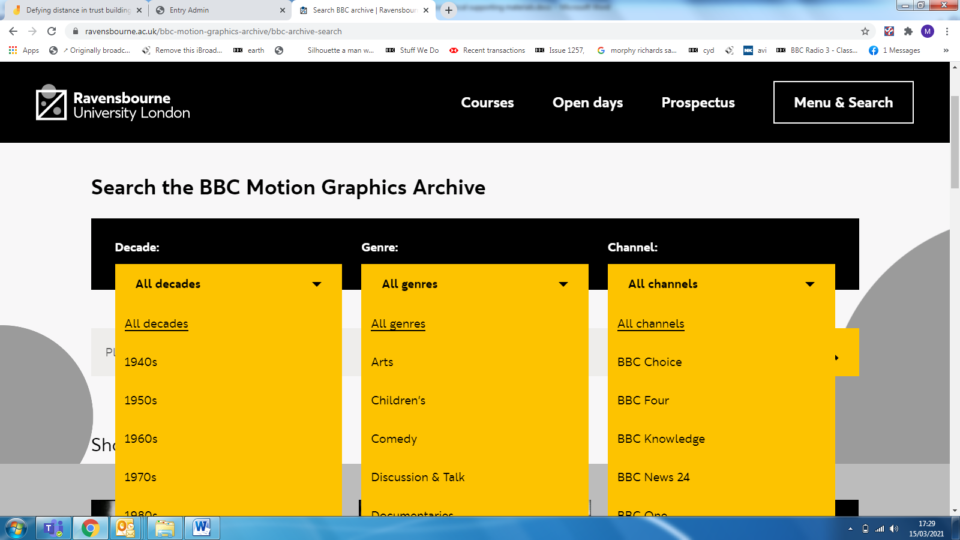 Producer(s):

Eben Hugo, Michael Graham-Smith

Editor(s):

Mark Macey

Footage Archive Researcher:

Michael Graham-Smith, Joe Trodd, Mark Macey

Production Company:

BBC and Ravensbourne University London

Country of Production:

United Kingdom
Synopsis
The BBC Motion Graphics Archive showcases the history and development of motion graphics across the BBC, reflecting the changes in technology and the evolution of the role of the graphic designer within the industry. This unique collection features content from the 1940s to the early 2000s, and will expand over time. It includes many thousands of examples of opening titles, programme inserts, promotion trailers and channel idents. These can be searched by decade, genre or channel, by title or a designer's name, with metadata describing the concept and creative processes involved. We wanted to make selections that represented a wide range of genres and channels because they have all developed in various ways.
The BBC sought to work with an external academic institution for the project and it proved to be a strong partnership with Ravensbourne, who worked hard to develop and incorporate the archive in their existing site. We worked closely with around 150 BBC graphic designers (and families) who have shared invaluable knowledge of the techniques used to create the works over the years. A large selection of films of graphic designers talking about their work and techniques have been recorded, and a comprehensive selection of artefacts used by designers in their careers has been amassed for inclusion soon.
This has been an opportunity to showcase archive content in a unique way - to evoke nostalgia, to recognise the academic potential of the archive and to inspire a new generation of designers, archivists and media historians, particularly as the BBC approaches its centenary – and beyond!