Lifetime Achievement Award 2018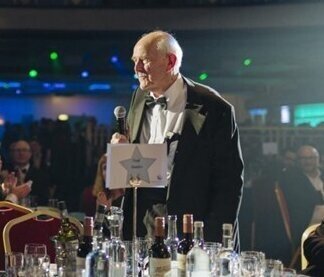 The FOCAL International Lifetime Achievement Award is gifted by the FOCAL International executive board to an individual who has contributed to and supported the footage archive industry within their career and through the body of their work.
We are delighted to announce that the 2018 recipient is Gerry Weinbren.
A Footage Adventurer
Gerry Weinbren is a pioneer of the UK footage industry. An independent film maker who founded Index Film & Television Library in the early 1970s to preserve production elements and to licence footage from them, at a time when few such resources were available. He has remained at the forefront of the sector ever since, continually driving up standards and anticipating future trends such as HD and 4K. A champion of 35mm film, he has long recognised the value of a format ideally suited to a library, one that is capable of matching ever higher resolution demands of present and evolving technology.
Subsequently Gerry decided to create footage exclusively for library use, based on but also anticipating client demand. From behind film and digital cameras alike he would go on to produce amazing content from around the world on a wide range of topics including cityscapes, landmarks, nature, technology and transport.
His interest in researching footage dates from the early 1950's when he joined the Shell Film Unit and worked on productions including "The Gas Turbine" and "High Speed Flight". Aviation became a fascination and the reason why the Index collection is renowned for its coverage of such. Gerry's knowledge of the industry is second to none and his cinematic eye for aircraft is evident from the unique footage he has captured from airside runways and taxiways, not to mention from the skies.
With vast experience in all aspects of film making and preservation, his passion for excellence is contagious and he continues to communicate his great knowledge to others, both at an individual level and group lectures.
At 89 he remains a driving force, his enthusiasm for producing quality footage as strong as ever. His energy and enterprise are quite extraordinary and his footprint considerable.
"Gerry has over 60 Years' experience in film starting out shooting black and white nitrate film, and now today shooting up to 4K in digital, there is not much Gerry hasn't seen! Gerry created Index Film and TV providing stock shots which set themselves apart from a lot of other companies as it was all shot on 35mm Original Neg and still looks fantastic today!"
Jo Griffin, Chief Operating Officer, R3Store Studios