Lifetime Achievement Award 2023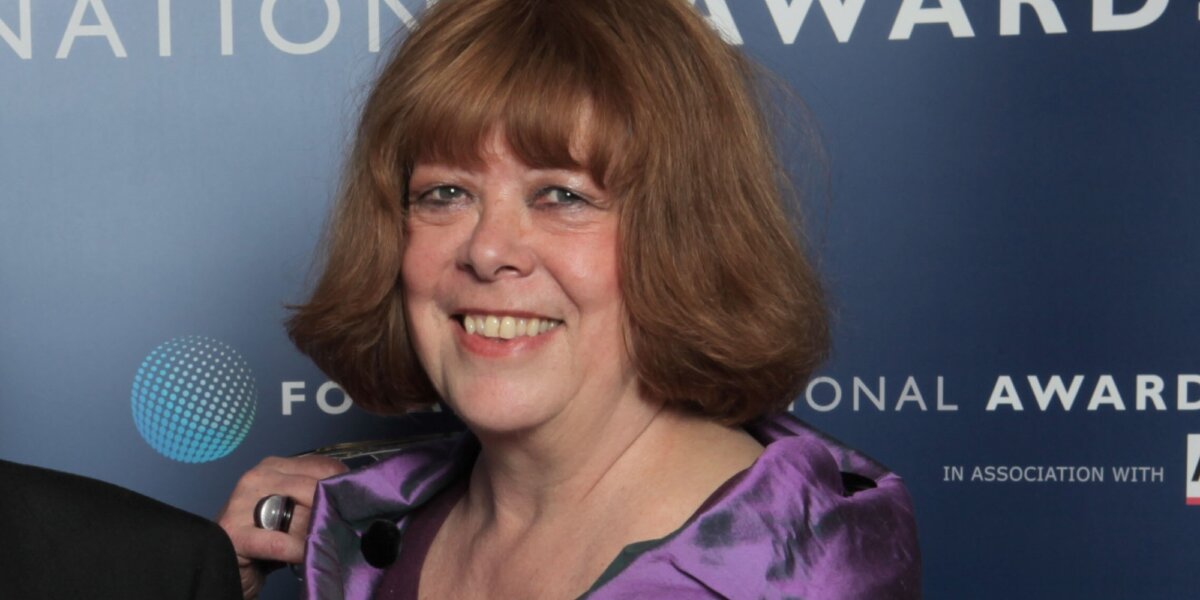 FOCAL International to Honour Sue Malden
LONDON, 27 March 2023: The FOCAL International Lifetime Achievement Award is gifted by the FOCAL International executive board to an individual who has contributed to and supported the audiovisual archive industry within their career and through the body of their work.
We are delighted to announce the 2023 recipient is Sue Malden.
The 20th FOCAL International Awards Gala Ceremony takes place on 15 June 2023 at The Grand Connaught Rooms, London.

~~~~~~
Sue Malden has nearly 50 years' experience of a wide range of audio-visual archive management, with detailed knowledge of film and video, radio and photograph collections.
She began her career at the BBC Film & Video library in 1973 as an assistant librarian, fulfilling over time all the various operational roles of intake, cataloguing, selection, preservation and research .
Sue had gained programme making experience with BBC Current Affairs, Entertainment and General Features departments, working as a film researcher. She also learned a great amount about the history of the BBC whilst in 1976 working as researcher on "Forty Years" – the first BBC anniversary production made up of 3 hours of archive clips archive. Whilst working on this Sue learned a lot about broadcasting archive practices and why so many programmes had been wiped or junked. This made her the ideal candidate for the position of BBC Television Selector!
In 1978 Sue became the first ever BBC Television Selector, with responsibility for the design and introduction of the BBC's television selection/retention policy, criteria and procedures. She used an analysis of the Dr Who productions to understand television retention and rejection practice in the past.
As Head of BBC Broadcast Archives(part of Information & Archives) from 1993 - 1996 Sue had operational line management of the whole library service with responsibility for approx 200 staff with a senior management team of 10. This role involved identification and commissioning of staff training needs; management of a budget of £10.5 million; all industrial relations negotiations. A key management achievement during this period was the integration of the photograph, film and video, radio and news operations. Through this process Sue gained substantial experience of change-management and process re-engineering in the context of integration of a range of library operations(News, Pictures, Television and Radio).
In 1994 Sue became the BBC representative in of FIAT/IFTA (International Federation of Television Archives) , and later in 1997 chair of the Programming and Production Commission and Vice President in 1998. This involved a certain amount of lecturing abroad on a range of audio-visual archive management issues eg production use, criteria for selection and retention, marketing; conference organisation; leading the annual work plan for a multi-national group; working with many different nationalities.
In 1996, Sue, as Head of Marketing for BBC Information & Archives established and led the marketing team of 5 and designed and implemented the marketing plan. The role also involved the need to introduce and instil an understanding of the need for change as the library service moved into an internal market; negotiation of usage and service level agreements; and development of an external market for archive services.
In 1998 Sue became Corporate Affairs Manager for BBC Information & Archives. This role required her to draft, review and implement major guiding archive management policies - ensuring pan-BBC endorsement and commitment to the successful application of these policies; promote the value of archive services to programme makers in the BBC and through sales divisions, those independent of the BBC; enhance the professional reputation of the archive service in the wider world of libraries and archives.
On leaving the BBC archive Sue worked as a researcher on many Current Affair and Feature productions, both with and outside the BBC, putting her knowledge of, and commitment to archives into another perspective – re-use of archive footage in new productions.
In 2005 Sue became the second chair of FOCAL International, following Jane Mercer. This experience enhanced her knowledge of the commercial world of audio-visual archive management. She became conference organiser for FIAT/IFTA – the main contribution to international broadcast archives was the annual conference at which members could hear presentations, see demonstrations of all the latest developments and technology available to archives as well as network with colleagues from around the world.
Sue's experience and knowledge led to her being invited to join and contribute to the work of many specialist organisations – the Royal Television Society's Archive group, the Consultative Committee of the British Library's National Sound Archive, BAFTA's Archive Committee, Executive Coordinator for the FIAT/IFA Archives at Risk project; IBC's Archive Day.
Sue thrives on sharing her knowledge and promoting archives, so in Jan 2009 she began teaching archive research and consultancy to French masters students at INA, organising a study week for them visiting London based archives; next training Omani TV archivists; publishers' picture researchers in moving image research and sources; producing training workshops for audio-visual archives in the Caribbean; creating and running archive training courses for the BBC; Guest lecturer in Media Archive management at Carlos 111 University, Madrid; various FOCALInt training events; Channel 4 Archive training offer.
She has been a guest speaker on archive issues at IAMHIST; FIAF; UNESCOs Columbian audio-visual conference, the CBU annual conference.
She has also shared her knowledge as a consultant for many organisation - Review of Albanian television Archives; the Open University; Ballet Rambert; South Africa Broadcasting Company, Al Jazeera; Kuwait Television; moderating strategic planning for BFI and Regional Film Archive representatives; SEMLAC on commercial opportunities for archives holding film and video in the south east region; Archive audio-visual content advisor to Educational publisher of CDRoms etc to complement their books; advising the EBU,CBU,ABU and WBU on all matters of Broadcast company archiving; BBC Current Affairs; TG4 Irish language tv station: the World Information Society ; the World Electronic Media Forum; the UN – explaining to Kofi Anan (then General Secretary) of the UN the importance and value of audio-visual archives.
Sue cares passionately about archives which are often overlooked and left in the "metaphorical basement" with insufficient resources. Sue always felt that archive organisations should pull together and not apart. To pool resources and fight, lobby together for the recognition of the significance of our archives. To this end she was instrumental in FOCALInt's successful application to join the CCAAA (Coordinating Council of Audio-visual Archives) so this group could take up an international role, especially with UNESCO of promoting knowledge about audio-visual archives.
A labour of love! On leaving the BBC in 2002, Sue joined the BECTU (Broadcasting Entertainment Trades Union) History group to advise on management of the Oral History collection. She has remained volunteering with the archive – now known as the British Entertainment History Project ever since as it has grown into a vast collection (over 800)of interviews with people who have worked in Film, Television, Theatre and Radio. She also advises the Broadcasting Authority of Ireland on investment in Irish culture audiovisual archive.
Life goes on! Sue is currently chair of the board of trustees to MACE (the media Archive of Central England).
And a regular invitee to Dr Who conventions!!!
~~~~~~
Previous Lifetime Achievement Award winners: Bríd Dooley, film director Julian Temple; pioneer film maker Gerry Weinburn, Emmy-nominated director-producer Serge Viallet
A full list of FOCAL International Awards 2023 shortlisted nominees is available at FOCAL
Further information please contact:
Mary Egan [email protected] / +44 (0) 7789 056661