FOCAL Online Workshop: EDL
Online, Zoom | 16:00 - 17:00 (BST)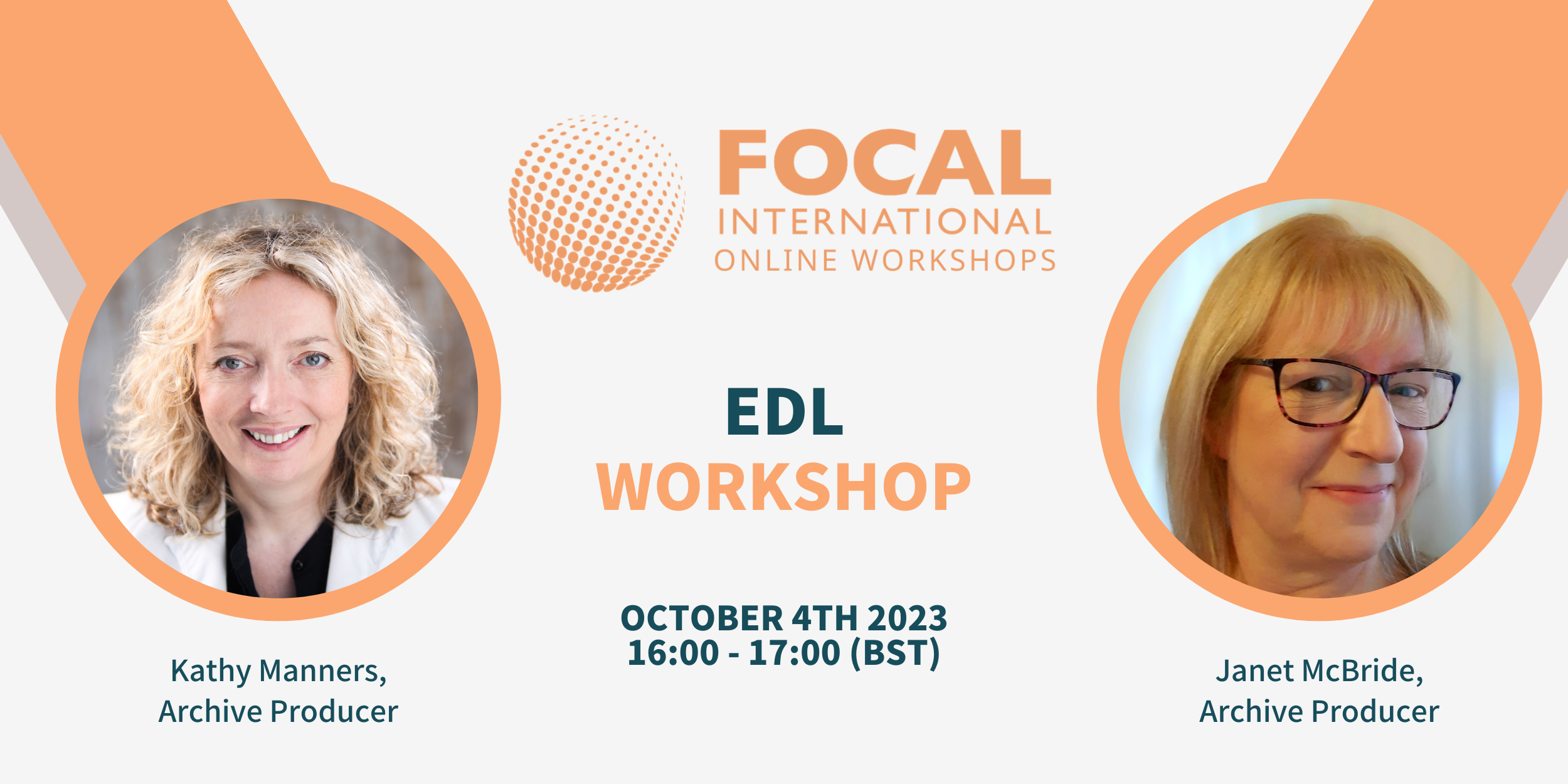 The EDL or to give it is full name Edit Decision list, is a key document that allows the archive producer to keep track of footage, stills, and audio that have been used in the production you are working on. This workshop will give you an overview and understanding of how to analyse and use "EDL's", in particular to cost the archive spend for the production and ultimately to produce a detailed final archive PasC (Programme as Completed form). We also look at the tips and tricks and the different services available to convert EDL's provided from the edit such as EDL Hacker.
PLEASE NOTE: Due to the 3rd party content that will be shown in this workshop to demonstrate EDLs, we are unable to record this session.
Date: Wednesday October 4th, 2023

Time: 16:00 - 17:00hrs (BST)

Location: Online, Zoom
Price: FOCAL Members - Free | Non-Members - £10

Zoom details will be sent the week of the workshop.
The Panel:
Kathy Manners, Archive Producer
Kathy Manners boasts 25+ years as an archive producer, working on acclaimed live events, documentaries, and releases for BBC, ITV, Channel 4, Channel Five, HBO, and Animal Planet. She's scoured archives worldwide, from Russia to the USA.
Collaborating with notable UK filmmakers, including BAFTA winners Adam Curtis, Lawrence Rees, and Stephen Frears, Kathy's recent projects include BBC Events' "The Coronation Concert" and the BAFTA-winning "Platinum Party at the Palace." She played a key role in bringing the BFI Mitchell and Kenyon collection's Edwardian archive to BBC, recognizing its historical value.
Kathy's role as an archive producer encompasses content supply, copyright clearance, and tight budget collaboration with editors. Her expertise shines in projects mainly composed of archival material, thriving in the creative media production field.
Janet McBride, Archive Producer
Janet McBride is a UK based Freelance Archive Producer with over 30 years of experience in a variety genres from Comedy Entertainment to Specialist Factual and Historical Documentaries. She joined the BBC Film Archive as a librarian in 1986 where she received extensive training in the research and use of archive film. From there she moved into production at BBC Current Affairs and BBC Light Entertainment, before embarking on a freelance career with a variety of Independent Production companies and broadcasters.
Over the past three decades she has been an Archive Producer, Series Producer, Executive Producer and Head of Production, enjoying success on an eclectic range of comedy and entertainment programmes including Baddiel & Skinner's Fantasy Football League and TV's Naughtiest Blunders for ITV. As an Archive Producer, she now works mainly with historical and specialist factual productions and has been responsible for award winning documentaries such as Smithsonian's When Tariq Ali met Malcolm X and National Geographic's flagship maritime archaeology series Drain the Oceans.