FOCAL Online Workshop: Licensing Content from National & Regional Archives UK & Ireland
Online, Zoom | 15:45 - 17:00 (GMT)
Due to popular demand, we have been asked to hold another online workshop where you can meet three additional film archives from across the UK and Ireland.
This is your opportunity to hear from the representatives and discover the wealth of content available from Imperial War Museums (IWM), North West Film Archive and IFI Film Archive. We will showcase highlights and share details of their extensive collections, how you search material, what rights are available, and their process for end-to-end delivery of content.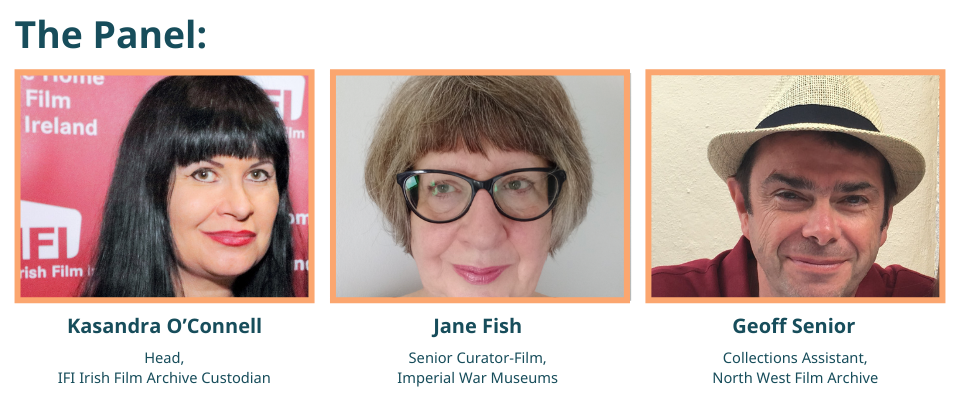 Kasandra O'Connell, Head, IFI Irish Film Archive Custodian
is Head of the IFI Irish Film Archive custodian of Ireland's national moving image collection and has been working in the cultural sector for 30 years. Before commencing her position as Head of the IFI Irish Film Archive in 2000, she worked in conservation at the National Museum of Ireland. She has a postgraduate qualification in Archival Science, an M.A. in Museum Studies and is currently undertaking PhD research in moving image preservation and policy at Dublin City University. She has lectured on various aspects of film archiving for the International Federation of Film Archives (FIAF) Maynooth University and the Film Heritage Foundation. She has written about digital preservation and moving image archiving for a number of publications including Film Ireland, History Ireland, Journal of the Society of Archivists, the International Journal of Film Preservation and Alphaville and is a member of the editorial board of The Moving Image Journal. She regularly contributes to television and radio programmes on film and preservation in Ireland. Her focus in recent years has been devising and implementing the IFI Irish Film Archive's Digital Preservation and Access Strategy, providing access to the IFI collections via the IFI Player and undertaking large scale preservation and digitisation projects.
The Irish Film Institute
Based in central Dublin, the Irish Film Institute is Ireland's national cultural institution for film. It provides audiences throughout Ireland with access to the finest independent, Irish and international cinema. It preserves and promotes Ireland's moving image heritage through the IFI Irish Film Archive, and provides opportunities for audiences of all ages and backgrounds to learn and critically engage with film.
The IFI Irish Film Archive
The Irish Film Institute is the home of Ireland's unique moving image heritage. As custodian of Ireland's national collection of moving image, the IFI Irish Film Archive is central to this activity. The IFI Irish Film Archive collects, preserves and shares this moving image collection, a diverse resource that chronicles over one hundred years of Irish achievement and experience. The Archive collection spans 1897 to the present day, reflecting the work of amateur and professional filmmakers whose cameras have captured the development of modern Ireland. A broad selection of the collections can be accessed globally, for free, via the IFI Archive player
The IFI Archive Player
The IFI Archive Player is a virtual viewing room for the collections held in the IFI Irish Film Archive, giving audiences across the globe instant access to this rich heritage. With over 900 films available on the IFI Archive Player, the material has been curated to give audiences a taste of the breadth and depth of the collections preserved by the archive. Home movies, newsreels, travelogues, animations, feature films, public information films and documentaries have been included in order to reflect all aspects of indigenous amateur and professional production. www.ifiarchiveplayer.ie

Jane Fish, Senior Curator-Film, Imperial War Museums
IWM website www.iwm.org.uk
IWM Film website www.iwm.org.uk/film
E mail [email protected]
Imperial War Museums (IWM) has managed a film archive for over a century. From its very beginnings as an institution, IWM understood the importance of film as primary source material and its extensive collection illustrated the causes, course, and consequences of conflict from the First World War. The constantly growing IWM film collection now extends to over 25,000 hours and offers a remarkable resource for researchers and filmmakers with a diverse range of material from unedited combat films and public and service information films through to official newsreels and amateur films. An ongoing film digitisation programme provides free online access and a recent upgrade of the IWM Film website offers online HD clip delivery for commercial broadcast users.

Geoff Senior, Collections Assistant, North West Film Archive

We're the home for the moving image heritage of the North West of England.
From historical footage and home movies to newsreels and adverts, we find, preserve and share over 50,000 pieces of film and video, for public, educational and professional use.
Part of Manchester Metropolitan University, and based in Manchester's Central Library, we are a specialist resource dedicated to saving and growing our region's rich filmed history.
Since 1977, we have been gathering, preserving, and sharing thousands of moving images made in or about Greater Manchester, Lancashire, Cheshire, Merseyside, and Cumbria. The material includes both professional and amateur footage, from the pioneer days of film to the digital video production of today.
Our collection includes:

cinema newsreels
documentaries
advertising and promotional material
educational and travel films
home movies
corporate videos
regional television programmes
We hold a wide variety of material so just ask, but strongly represented are films covering:

work and local industry
leisure, holidays, sport and entertainment
local traditions and community activities
transport
housing
wartime experiences
Website: https://www.mmu.ac.uk/north-west-film-archive
Vimeo: https://vimeo.com/nwfilmarchive
Facebook: https://www.facebook.com/NWfilmarchive/
Twitter: https://twitter.com/NWfilmarchive