FOCAL Online Workshop: Rights Clearance for Music Content
16:00 - 17:00 (BST) admission from 15:45
Our expert panel took our attendees through all the right steps of how to search and secure rights. In this session we answered questions such as:

How do you find the right material?
Is there a different approach to acquiring music content?
What 3rd party rights need to be licensed and approx., timelines?
How to you deal with public domain or royalty free content?
What are the pitfalls to look out for?
and many more.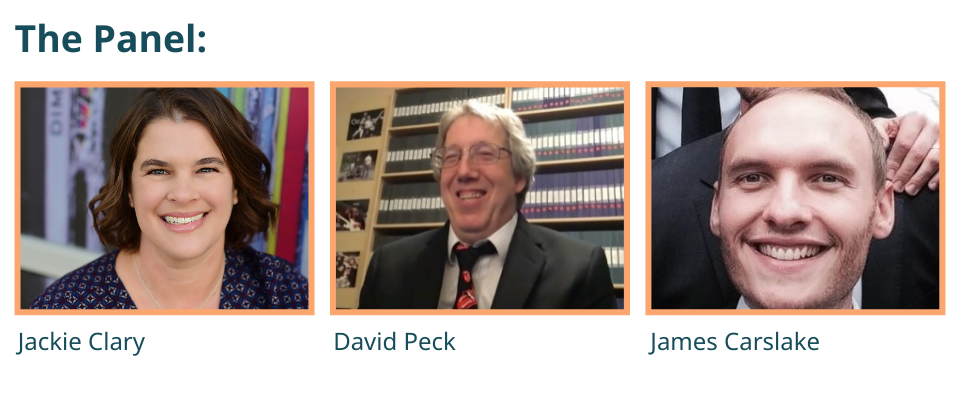 Jackie Clary:
Jackie Clary is an archive producer with over 25 years of experience working in TV, music and several places where those two meet. She's worked at MTV, ABC News, Reelin' In The Years Productions and the Rock and Roll Hall of Fame. This year she was responsible for the archive and production clearances for the newest episodes of the classic documentary series Behind The Music. A lifelong pop music fan, she keeps up with the current charts, but her favorite '80s songs are always in constant rotation.


David Peck:
In 1992, David Peck founded Reelin' In The Years Productions 1992, a production and footage company specializing in licensing music performance footage and interviews with the 20th century's icons of Film and Television, Politics, Comedy, Literature, Art, Science, Fashion and Sports. The archive houses over 30,000 hours of music footage spanning 90 years and 10,000 hours of in-depth interviews, filmed between 1962-2012 The interviews are from legendary talk shows around the world, including those hosted by Sir David Frost, Merv Griffin, Rona Barrett and Brian Linehan and others.
David Peck has also directed and produced over 70 historical music documentaries and programs focused primarily on the giants of jazz, blues and rock & roll garnering many awards including a Grammy Nomination. In 2020, David Peck was one of the Executive Producers on the critically acclaimed documentary on the Bee Gees , "How Can You Mend A Broken Heart" Most recently, David's company, Reelin' In The Years Productions has partnered with The Coda Collection, a new music channel that is currently streaming exclusively on Amazon Prime.


James Carslake:
James is Head of Music at the All3Media group of television and film production and distribution companies. Working with senior management and key creative talent across the business, James is responsible for developing global strategies and policies to deliver outstanding music across today's ever changing media landscape. Prior to joining All3Media in early 2019, James gained experience across a number of roles in the music industry at HMV, Sanctuary Records, and then 13 years at EMI Music Publishing (later acquired by Sony Music Publishing).