FOCAL Online Workshop: Technology: Future Applications and Platforms
16:00 - 17:00 (GMT) admission from 15:50
Can you keep up with the ever-changing technological environment?
During our Zoom Workshop we will provide an exclusive opportunity where we use everyday knowledge and experiences to discuss options to enhance and streamline everyday business.

FOCAL International brings together industry experts to take you through how best to work with AI from a user and rights holder point of view, how to introduce new services such as parallel transcoding for faster-than-real-time performance and finally how to acknowledge key trends and future interaction technology.
All online workshops are free for members and available to non-members for a nominal fee of £10.00 plus VAT (if applicable). Please book your tickets at the bottom of the page.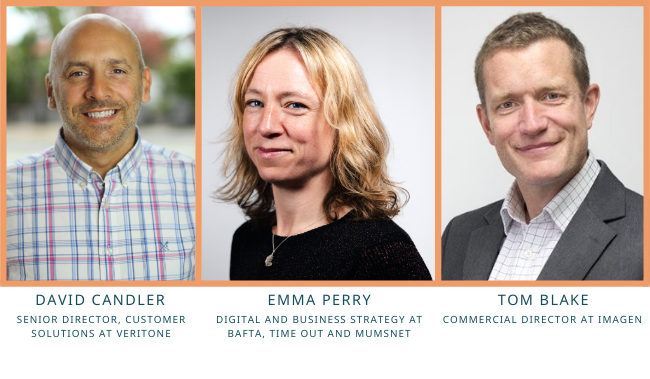 David Candler
David Candler is Senior Director, Customer Solutions at Veritone, a leading AI technology company with purpose-built applications for the M&E industry. David has worked in the industry for over 25 years and has a track record of successfully developing and implementing cloud-based, AI-powered workflow solutions that enable M&E organisations to innovate and accelerate their media utilisation and processes.

Emma Perry
Emma Perry is the digital and business strategy at BAFTA, Time Out and Mumsnet, leading new projects from conception and design to delivery and development post-launch.
Emma works cross team (product, technology, editorial, UX, design, marketing) and managing working groups across multiple stakeholders to deliver projects to deadline. Emma is experienced in managing software teams, editorial teams and community groups, both operationally and strategically – often co-ordinating groups in different countries and time zones.

Tom Blake
Tom has led Imagen from developers of bespoke software to a fully cloud based software-as-a-service solution back in 2013 to avail the benefits of rapid deployment and dynamic scalability. Imagen have been developing software for the management and commercialisation of digital video libraries for over two decades. In 2020, with cloud achieving mainstream acceptance, Imagen are helping large video libraries migrate, leveraging AI and advancing storage management capabilities to provide affordability and future-proofing.


Ticket type
Price (£)
Qty