FOCAL Online Workshop: Pathway to Becoming a Media Archivist (hear from the professionals)
16:00 - 17:00 (BST) admission from 15:50
This workshop looked at employment in moving image archives. What training opportunities are there for the archivist and researcher, both corporate and freelance? What kind of roles exist within our industry? And how does a new entrant, or even an old hand, progress and thrive in our field. Our panel offered insights though their experience and knowledge of the career opportunities, in what is….after all…an expanding sector.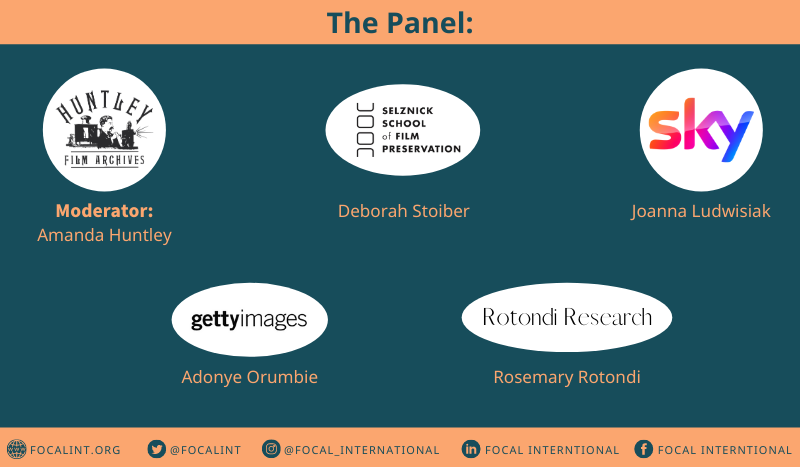 Moderator : Amanda Huntley from Huntley Film Archives

Huntley Film Archives bills itself as a social history archive, films of the lives of ordinary people around the world, doing ordinary things: working, at leisure and with the family. So she brings her historian's mind to the subject, working with film as a historic primary source. The archive offers a full commercial service to all media producers.
In addition to her Huntley work, Amanda is on the executive board of Focal International – the trade association to the world's archives, Mace – a public regional archive for central England and London Screen Archives – a network for London's moving images.
Amanda regularly lectures on the subject of archive film and the 20th century, some times to large audiences 500 + or to smaller groups as workshops - training the next generation of film archivists
Film is an extraordinary way to get close to the past. Amanda is dedicated to preservation and training. Ensuring Film Archiving skills for the next generation is her current goal.

Deborah Stoiber from the L Jeffrey Selznick School of Film Preservation

Deborah Stoiber has worked for the George Eastman Museum for close to 20 years and is currently the Collection Manager in the Moving Image Department. She oversees 100,000 nitrate and safety motion picture reels, a large variety of video formats, along with 2,000 Technicolor dye bottles in three facilities located in and around the city of Rochester, NY. Her responsibilities include inspecting, accessioning and cataloging collection material, making recommendations for de-accessioning collections and new acquisitions. Recent donations to the museum include an acquisition of South Asian Cinema that has created the largest collection of Indian Cinema outside of India. She is an instructor in The L. Jeffrey Selznick School of Film Preservation where she focuses on the organization and care for permanent and extended loan collections.
Joanna Ludwisiak from Sky Television
Specialising in current affairs, Joanna is a Sky News lead researcher. With eighteen years of media industry experience - including news stories of Mexican drug cartels, big game hunting, the Islamic State conflict, killing of George Floyd and Primodos the secret drug scandal . She's archive producer for Sky Ocean Rescue's films, which are influential enough to have been shown in Parliament and at the U.N. Lead Media Researcher with Sky News Archive and Content Services coordinating media for Sky News production house.

Adonye Orumbie from Getty Images
A seasoned data minded Talent Acquisition specialist with over two decades of recruiting experience in both Agency and In-House teams. Based in London, UK I am proud to be part of the Getty Images family for the best part of 2.5 years (since November 2018). I lead the Global Talent Acquisition Team, where my remit is not only to 'get good people' (Hiring), but to also 'keep good people!'(Retention). As a proven multi-disciplined professional I thrive on leveraging my skills to uncover the best talent for the organisation, and to continuously improve recruiting processes to ensure that we embrace best practices throughout Getty Images. At heart, I am a full cycle recruiting Chameleon servicing all levels of opportunities across early career to experienced hires, and providing solutions for complex recruitment issues. Main focus is to devise strategies that rewards us with a competitive advantage in a very vibrant applicant market, with the intention of positioning Getty Images as the employer of Choice for prospective candidates. I find strength and satisfaction in being a trusted partner and advisor to Business Stakeholders, applicants and candidates alike. A strong and passionate advocate of Diversity and Inclusion, making my mission one of equity, and that of widening the gate, whilst not lowering the bar.

Rosemary Rotondi from Rotondi Research
Rosemary Rotondi is an archival film, photo, headlines and network news researcher with over 30+ years of experience. Rosemary served as the network news researcher for Laura Poitras' documentary entitled 'Risk' which had both a theatrical release and which premiered on SHOWTIME Network. Rosemary also worked as network news researcher for Laura Poitras' Academy Award winning 'Citizenfour'. Rosemary served as lead researcher on Julia Bacha and Just Vision's documentary feature entitled 'Naila and the Uprising', featured in DOCNYC, released worldwide in 2019. In 2016, 'Before the Flood' by Fisher Stevens and Leonardo DiCaprio, on which she served as a researcher, premiered in the 2016 Toronto International Film Festival and then was shown on National Geographic Channel. Rosemary also served as photo, text and network news researcher for Charles Ferguson's 'Inside Job', Academy Award Winner 2011. In 2018-2019 Rosemary served as Lead Researcher on Stanley Nelson's documentary feature film, which aired nationwide over PBS, named 'Boss: The Black Experience in Business'. Currently Rosemary is serving as Mr. Nelson's lead researcher on his feature documentary film about the Attica Prison Riots, which airs over SHOWTIME Network in 2021.
Currently showing on SHOWTIME Network as of September 8, 2020 is 'Surge' by Wendy Sachs for which Rosemary was both photo and network news researcher.
Rosemary served as lead researcher on Matt Wolf's films: 'Teenage' (2014) and 'It's Me, Hilary: Man Who Drew Eloise' (2015). 'Teenage' was nominated in 2015 by FOCAL (Federation of Commercial AudioVisual Libraries) in London for "Best Use of Archival Film in a Cinema Release". Rosemary was lead researcher on Matt Wolf's 2019 documentary film, 'Recorder: The Marion Stokes Project'.
Her full credits list is available at: www.archivalfilmresearch.com


Associate Membership:
An introductory offer to newcomers/students who want to develop a career in the audio- visual industry. Available for the first year of membership only.

More information can be found at the Associate Membership Benefits

Have any questions you would like to ask us? Please fill in the form below and a member of the FOCAL Team will be in touch