2021 FOCAL International Awards Production Category Nominees Announced
We are please to announce the Shortlisted Nominees for the Production Categories.
The 2021 competition received a wide variety of submissions making it an undeniably rich and diverse contest, a challenge but rewarding deliberation process for our dedicated jurors across the globe; a testament to the continuing and growing power of archival storytelling.

Information for each category with full production details can be found by selecting the Category Title from the list below.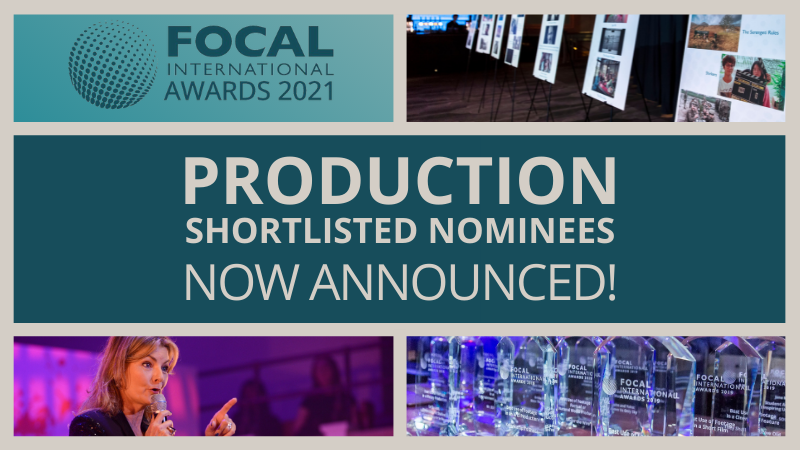 Disclosure - Disclosure Film in association with Field of Vision and Bow & Arrow Entertainment for Netflix
To the Moon - Inland Films
Kubrick by Kubrick - Temps Noir, Telemark
Nike 'You Can't Stop Us' - STALKR LTD

Athleta 'Women Run It All' - STALKR LTD

Spike Lee x Montblanc 'What Moves You, Makes You' - The Director's Studio, Wieden and Kennedy Amsterdam, Smuggler

Playstation 'Explorers' - The Director Studio, Adam and Eve, Somesuch

Bumble 'First Moves Forever' - STALKR LTD

MLK/FBI - Field Of Vision, Play Action Pictures, Cinetic
Crip Camp - A Higher Ground and Rusted Spoke Production in association with Little Punk, JustFilms, Ford Foundation for Netflix
Finding Jack Charlton - Noah Media Group
Ronnie's - Orofena Films, Goldfinch Entertainment
To the Moon - Inland Films



Un pays qui se tient sage, 'THE MONOPOLY OF VIOLENCE' - Le Bureau – Jour2fête

American Murder: The Family Next Door - Knickerbockerglory

The Rise of the Murdoch Dynasty - 72 Films

Spaceship Earth - RadicalMedia

Room 2806 - The Accusation - Le Chaînon Manquant for CAPA Presse

Crip Camp - A Higher Ground and Rusted Spoke Production in association with Little Punk, JustFilms, Ford Foundation for Netflix

Jimmy Carter: Rock & Roll President - Not Just Peanuts LLC, Thunder Moccasin Pictures

MLK/FBI - Feild Of Vision, Play Action Pictures, Cinetic

Vie et Destin du Livre Noir, la destruction des juifs d'URSS (The Black Book) - Les Films du Poisson

Gulag the Story - Kuiv productions

Once Upon a Time in Iraq - KEO films

Baci Rubati (Stolen Kisses) - Istituto Luce Cinecittà

We At War - Private films from Hitler's Germany - History Media GmbH

Long Hot Summers: The Story of the Style Council - Channel X and Mono Media for Sky Arts

Ronnie's - Orofena Films, Goldfinch Entertainment

The Story of Ready Steady Go! - Whizz Kid Entertainment, eOne, BMG

The Go-Go's - Fine Point Films, Fadoo Productions for Sky Documentaries

The Spiritual Exercises - The Documentary Group

North Country - Stept Studios

Revelaciones (Revelations) - TardeoTemprano Films

Finding Jack Charlton - Noah Media Group

The Last Dance - A Mandalay Sports Media Production in Association with NBAEntertainment, ESPN Films and Netflix

When the World Watched Brazil 1970 - FIFA Films, Noah Media

Long Gone Summer - ESPN Films in association with Bonfire Films of America

BBC Motion Graphics Archive - BBC and Ravensbourne University London

HENRI Des films rares de la Cinémathèque française et d'ailleurs à voir en ligne (Rare films from the Cinémathèque française and abroad to watch online) - La Cinémathèque Française

Rewind - BBC Northern Ireland